In-House Robotization Vs. Renting Robots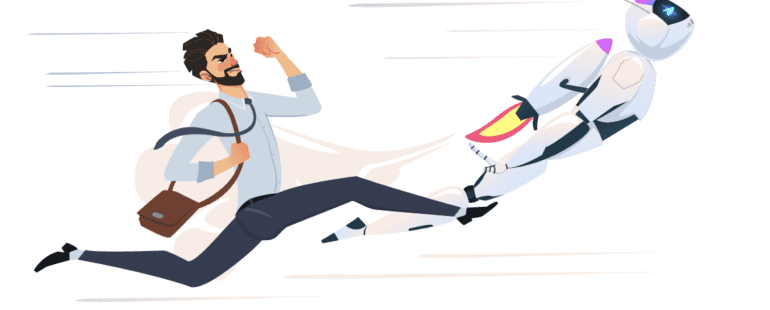 Today we'll give a closer look at two models of providing robots – implementing robotization in your organisation on your own or renting robots. We'll particularly pay attention to the costs you have to consider when choosing either option. Which model suits your needs and capabilities more?
In-house robotization entails a large, upfront investment
If you want to implement robotization in your business, you have to consider the following costs:
RPA licences,
assembling a team of RPA experts,
developing the IT team,
investing in IT infrastructure.
Robotization done internally requires an IT structure for maintaining the robots. Additionally you need a team of RPA developers who can create, maintain, and reconfigure robots. Meanwhile, the IT team has to maintain the infrastructure, platform and robotization tools.
All those costs result in a considerable, upfront investment. Of course, given the benefits of robotization, you will see the return on it in the long term. However, this model of implementing robotization is more suitable for organisations which have the potential of robotizing several hundreds of FTE.
Before you decide on internal robotization for your business, consider if your business is capable of achieving a productive scale for the investment to prove profitable.
Renting robots doesn't require upfront costs and it saves time
Another option of implementing RPA is to rent robots, or hire digital teammates. This model doesn't generate any initial costs. You don't have to invest in licences or internal IT and RPA teams. Neither do you carry any costs at the stage of identifying potential and manufacturing and testing robots. The organisation starts paying only when the robots start doing their job.
When renting robots, you don't have to worry about further costs which would naturally appear if you implemented robotization on your own, such as costs of recruiting and maintaining teams of IT and RPA experts and providing them with growth opportunities.
If you decide on renting robots, your organisation is supported in identifying its robotic potential by external, experienced analysts. Throughout the cooperation robots are not only provided, but also maintained and reconfigured as needed. When you hire digital teammates, the first robots usually start working within 6 weeks. But when you robotise internally, minor projects can take from 6 to 12 months.
Read about renting robots for fintech.